There are no guarantees in life, especially when it comes to investing. Recent surges in market volatility for stocks and bonds serves as a fresh reminder that asset prices don't always go up.
So how can farmland save us?
In short: there are no guarantees in investing, and past performance is not a guarantee of future results. With that being said...
Farmland prices historically have no relationship with stock market returns and have offered a highly attractive way for investors to diversify their portfolios.
Farmland Prices and Stock Prices Move Independently
Look at the chart below showing the relative movement between United States farmland (the green line) and the S&P 500, a primary equities index (red line). What do you notice about the correlation between the two?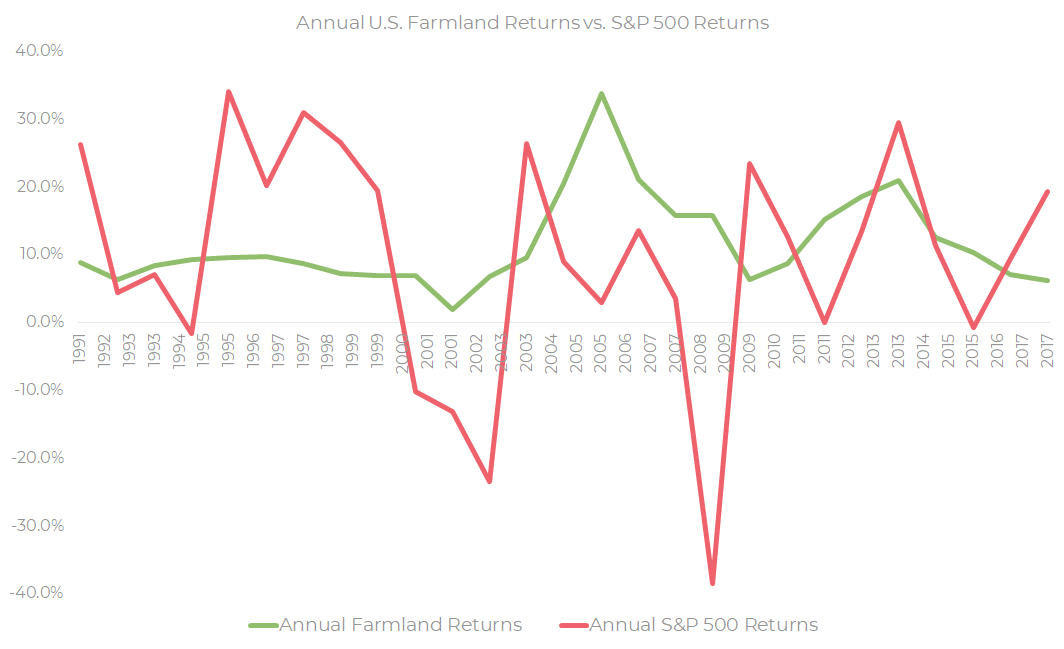 To be statistically precise, the correlation between these two asset classes is -0.03. Said differently, there is almost zero statistical evidence that stock market prices influence farmland prices and vice versa.
The lack of correlation alone suggests that farmland is a great portfolio diversification tool. In a world where most other asset classes increasingly move together, farmland helps mitigate the risk of financial loss in all assets at once.
Additionally, the relative movement in the chart above demonstrates two other very important points.
1. Stocks are volatile.
Yes, this is known, but it is fascinating to see the fluctuations between positive and negative annual returns from the stock market. Swinging between 30% returns and 40% losses is not for the faint of heart!
2. Farmland is a much more stable asset class.
Note that the volatility in the green line is just a matter of how much is made each year in farmland. Said differently, the returns of a farmland investment over time have oscillated between small returns and large returns, not between huge returns and massive losses like the stock market saw throughout the early 2000's and again during the Great Recession.
To learn more about the historical investment performance of farmland, please see the for investors section of our website. To learn more about our current offerings, please click here.
Note: The information above is not intended as investment advice. Data in the charts above is sourced from Bloomberg and the National Council of Real Estate Investment Fiduciaries. Additional calculations and analysis performed by AcreTrader. Past performance is no guarantee of future results. For additional risk disclosures regarding farmland investing and the risks of investing on AcreTrader, please see individual farm offering pages as well as our terms and disclosures.